Is there a better place to unwind than this dream-like bathroom? The natural colours and materials give the bathroom a calming atmosphere. The large windows with a view of nature invite you simply to let your thoughts wander.

The absolute highlight in this bathroom is our MEISTERSTÜCK OYO DUO. The egg-shaped bathtub is a real eye-catcher in every bathroom. It almost seems as if the MEISTERSTÜCK OYO DUO is floating. With the design of the modern, but at the same time timeless bathtub with a precise shape, the designer Stefan Diez was inspired by Japanese porcelain manufacture. With our recyclable KALDEWEI steel enamel, Diez follows his philosophy and combines sophisticated design art with sustainability. The double-walled bathtub also impresses with its high lying comfort and can be perfectly integrated into smaller bathrooms.

If there is no time to bathe, this bathroom also offers a unique shower experience: The large skylight and the spacious, walk-in shower area create the real feeling of showering outdoors. Our floor-level SUPERPLAN ZERO shower surface fits perfectly into the room. Our round MIENA washbowl is another eye-catcher in this bathroom. It is characterised by its puristic design. You can hardly tell that the slender washbowl is made of such robust material.
The products are colour-coordinated and thereby create a harmonious look.
Our Coordinated Colours Collection offers a wide range of different colours – there is the right colour for every bathroom.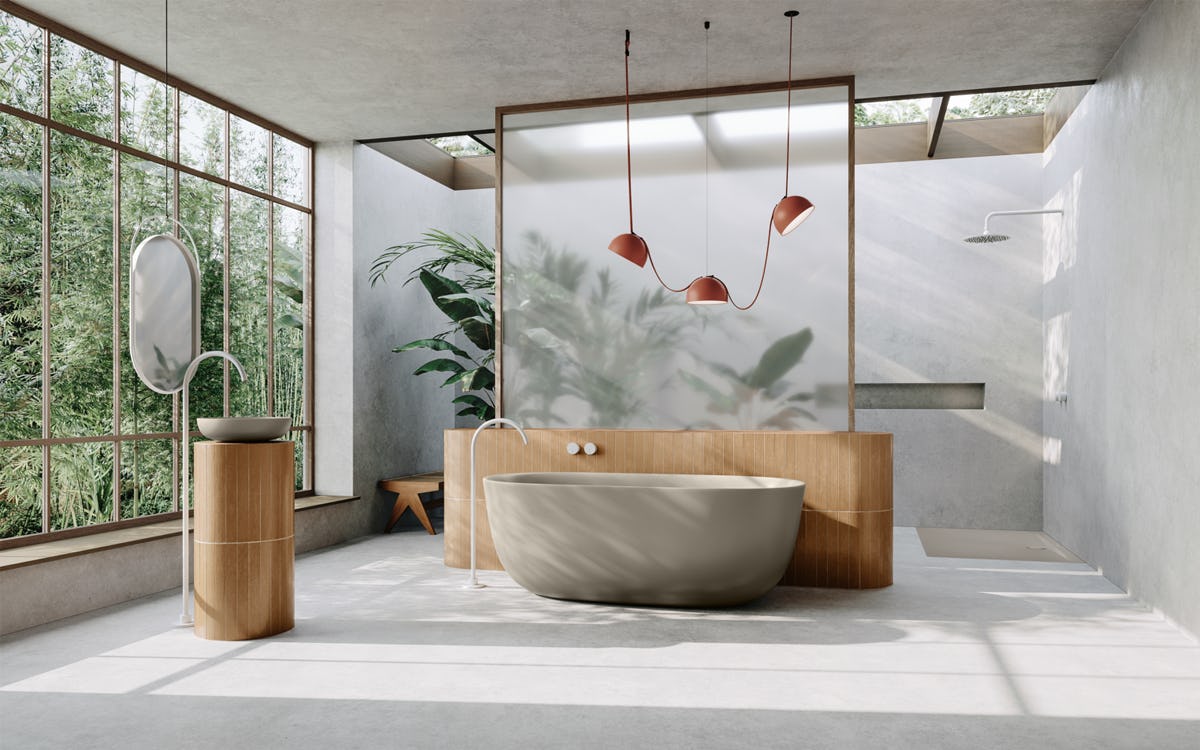 Sustainability and luxury are uncompromisingly combined in our products. Unique bathtubs, shower surfaces and washbasins made of steel and glass have been manufactured in our factory in Ahlen for more than a century. KALDEWEI steel enamel is durable and extremely robust. This means that our products can withstand years of use. We have lived the topic of sustainability from the very beginning, because KALDEWEI steel enamel is recyclable. The products are 100% recyclable, making them a sustainable solution for your bathroom.